Resources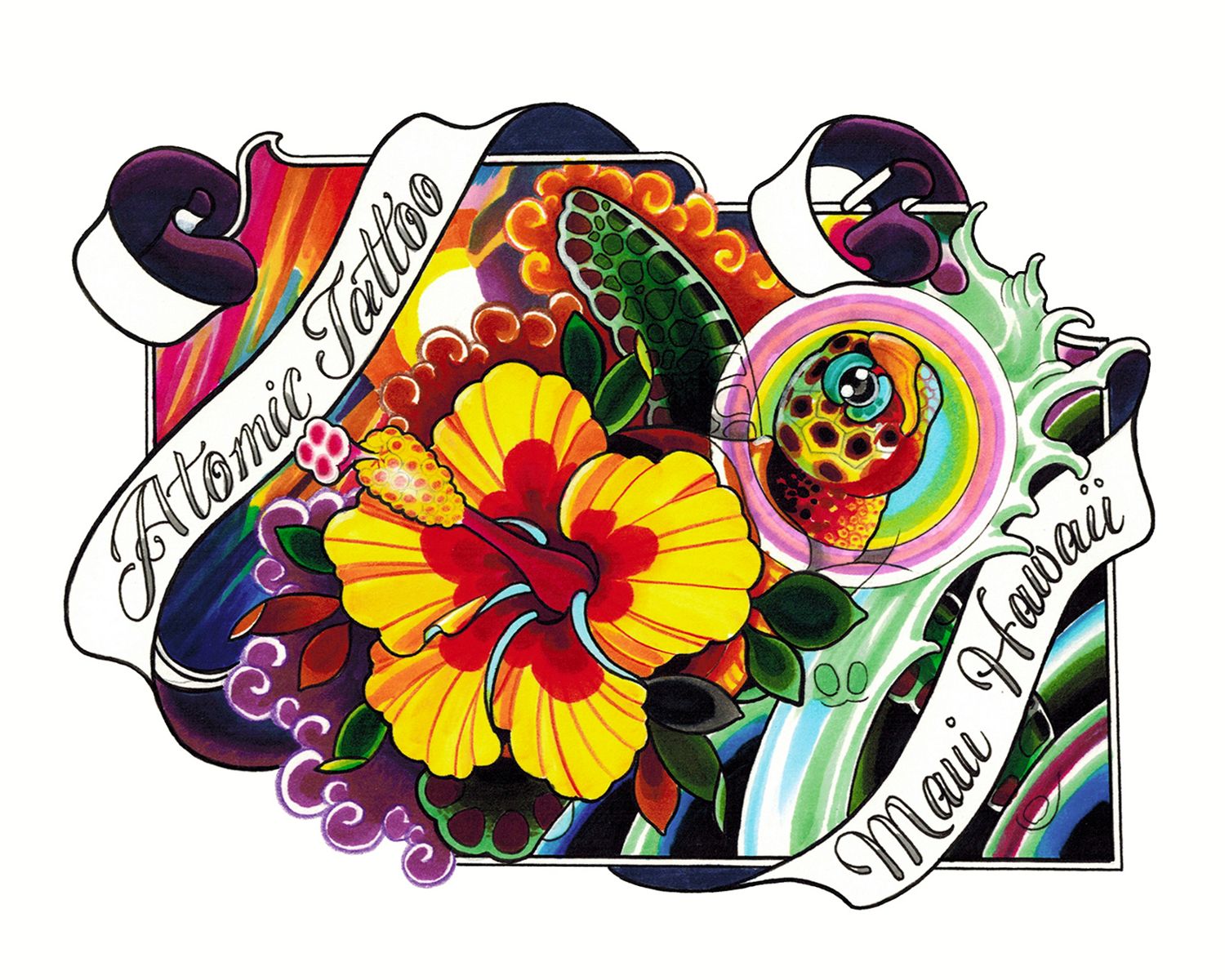 Maui Atomic Tattoo's Overall YELP rating:

Mariah V.

9/15/2016
Just got my first tattoo here and it's amazing! It was so smooth and not painful! Highly recommended.
Michelle O.

8/3/2016
Great experience here with both Lhena & Trevor. My husband & I each got a special & unique/original tattoo that we both love! Atmosphere was clean & welcoming & they made it easy for us - even on a Sunday! We will definitely come back when we return to Maui.

Rusty D.

7/14/2016
Wanted an expansion to an existing tattoo, what better idea than to do it on vacation? Checked a few spots & the people at Atomic were so friendly & helpful compared to the other places. Do not regret my decision! Monica did what I wanted & did an incredible job! Saw of other art & wow!
This is the place to go & will probably go back next year for something new!
Janessa B.

6/19/2016
Excellent excellent customer service! The two artist we encountered at the shop, Leilani and Lhena were fabulous. Straight forward and truthful about the work that they do at there shop and tattoo artwork in general. If you demand great service and beautiful artwork I would highly recommend this little shop!:) two thumbs up!

Ryan W.

6/17/2016
My sister and I just went to atomic tattoo for matching tattoos commemorating our grandpa whom recently passed. The owner Trevor did mine while Lhena did my sister. She just turned 18 so this was her first which she was obviously very nervous about. Both Trevor, whom is the owner, and Lhena were extremely helpful and informative. This establishment is a very clean, sanitary, and the people truly care about doing great work on every customer. Next time I am visiting the island, I will definitely be returning.

Ronnie M.

5/10/2016
My husband had an appointment with Monica on Saturday. She knocked it right out of the park with her design and color use. We can not wait to come back in September for her to do more work. If you want a large piece done with precision and detail, you have to go see Monica. (She does little stuff too).

AAron M.

4/22/2016
An awesome tattoo shop right off of Front Street in Lahaina Town. Go see Monica, she's a bad ass!

Danny J.

9/4/2015
Awesome experience with tattoos! My wife and I both got our first tattoo today...Lhena was our artist and I cannot tell you how pleased we are with her work..."bedside manner" had us both at ease...great conversation as she worked and music helped set the mood for me...some great Doors music for me and soft music for my wife. Whole experience from finding them on Yelp and calling before we arrived and then having preliminary chat with Ashley was great as they ecplained ups and downs of what we wanted as well as answering any questions. Met Robbie Big Balls as I was getting my tattoo and really enjoyed the conversation. If you are someone who is considering a tattoo while in Maui, this is a great place and Lhena is your artist extraordinaire!

Amy H.

9/3/2015 Updated review
Went here with my daughters, to get family themed tattoos. Celebrating the end of a prolonged illness in the family so the experience was very personal. The shop was AMAZING. Clean, comfortable and all three of our artists were excellent. Each truly captured our individual requests and did a great job. They also really understood the import of the event. Recommend them to everyone.

9/22/2014 Previous review
My daughters and I decided to get "inked in Hawaii" and found Atomic Tattoo. We went to every shop on the island to check them all out, and Atomic was by far the most friendly. Furthermore, the artists we had were AMAZING. They worked with us on the designs, and were very inclusive in the process (unlike other shops where they gave us the feeling of them being the artists and our input was minimally important). The appointment, though of course painful for me, was a lot of fun. The place is clean, and very welcoming, from the moment we walked in until we were done. Prices were good. Tattoos are all healing well and look terrific. CANNOT say enough good things about Maui Atomic Tattoo.

Danny H.

7/28/2015
We came to Maui on our honeymoon and wanted to gift each other some tattoos while we were here. We walked in and got an appointment scheduled and brought a rough idea of what we wanted. We left REALLY happy with what we got! Lhena was great, really nice and used her creativity to take our ideas and make them into something we both love.

Morgan J.

6/3/2015
I can't even begin to tell you how great this place is, Lhena in particular. I stopped by a few days before we left the island, and managed to make an appointment for Monday, the day we left. Lhena was very excited about my mermaid, and asked me to email her some of my ideas. Monday morning I got there a little early and filled out my paperwork. She came in and showed me her sketch, which was exactly what I wanted. The whole thing took 5 hours, with one break. Lhena was so patient with me, even toward the end when I was complaining about how much it hurt! I mean, it's a very large tattoo...what did I expect? But she was so sweet, and didn't let me complaining stop her from doing such a wonderful job. Now if only she would come to the east coast! I would go back to Maui in a heartbeat... just to get Lhena to tattoo me. I did glance at the other artists' work while I was there, and was seriously impressed with everyone. Really, if you want a tattoo in Maui, this is the place to go. Prices are great, artists are great, and they take credit cards, which my local shop does not. What more could you ask for?